Imagine what it feels like to stand 200 meters above the ground, when the whole city is at your feet. Joy, adrenaline, fear, excitement… And a dazzling opportunity to see everything in a new light. Enjoy the Energy Tech Summit VIP experience at the highest viewing terrace in Poland — the only tilting glazed viewing platform in Europe, and the second one in the world.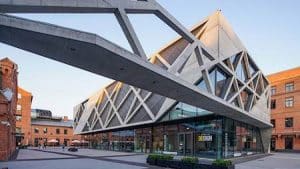 SHIFT YOUR PERSPECTIVE ON CLIMATE CHANGE
Sometimes, all we need is just a new perspective to lead us to the best ideas. We see the world through lenses of fixed views, but when challenges seem far off, it brings a fresh injection of ideas, even for the polarised climate conversation. 
Pair the bird's-eye view with professional context, and it takes everything to a whole new level. Endless networking opportunities, a cocktail party with a sweeping skyline panorama and a decadent dinner in multidimensional space — get ready for an experience that will surpass your expectations.
Good ideas can come from anywhere, but the best ones come from up here.